Start Losing Weight With One of the Best Bathroom Scales
12 min read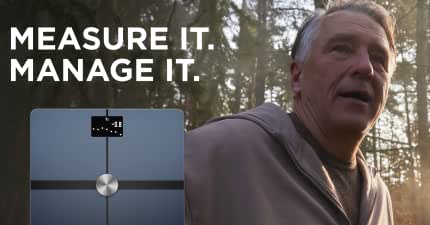 When it comes to losing weight, there are a lot of factors to consider. But one that is often overlooked is data. If you're trying to gauge weight loss by looking at yourself in the mirror, stop. You need a bathroom scale.
It might be scary to step on the scale at first, but watching the numbers decline over weeks of dieting and working out will help you keep your weight loss motivation high.
Before we discuss the best bathroom scales available right now, let's first take a look at the three most common types of scales available.
Analog Bathroom Scales
The OG of bathroom scales, analog bathroom scales require no batteries or electricity to function. Instead, you simply need to step on the scale and the needle will move on the dial to show you your weight. It doesn't get much easier.
Pros: An analog bathroom scale will last for decades thanks to the fact that it doesn't require a fancy app or electricity to function.
Cons: This type of scale can't do much more than provide a weight reading, so if you need your BMI or want to track your weight over time, you might need a digital or smart scale.
Digital Bathroom Scales
Digital bathroom scales are some of the most prevalent types of scales on the market. These scales run on electricity or batteries to provide a digital readout of your weight. Some also include BMI calculations.
Pros: Digital bathroom scales are easy to use thanks to the display which will often tell you your weight down to the nearest tenth of a pound.
Cons: Because digital bathroom scales need an electric source, such as a wall plug or batteries, they may eventually fail whereas an analog scale will continue to read your weight indefinitely. They also cannot be used on carpet and will frequently need to be recalibrated.
Smart Bathroom Scales
The newest innovation in bathroom scales comes with the invention of smart bathroom scales. These scales provide an extra dimension to digital bathroom scales by adding Bluetooth of WiFi technology inside the scale itself. By connecting to other digital devices, these types of bathroom scales can create logs of your weight and other data over a period of time. Most often, these scales sync with some sort of smartphone app, allowing you to access this data in a user-friendly format.
Pros: Smart bathroom scales sync with other digital devices to provide and store a wide range of data on your weight, BMI and more.
Cons: Smart bathroom scales are usually the most expensive option, so they may have more bells and whistles than the average user needs
What To Consider Before Buying a Bathroom Scale
Before we dive into the best bathroom scales on the market, there are a few questions you need to ask yourself. We've included a variety of scales below, including analog, digital and smart scales, so be sure you know the answers to these questions before reading on.
What type of scale do you want? Above, we've outlined the three major types of scales. Decide which one would be most useful to you and your health journey.
Which measurements do you need most? Do you need to only know your weight from time to time? Or would you like to record other body measurements, like BMI, bone mass and water weight?
How heavy are you? If you weigh 350 pounds or less, you should be able to use most scales on the market with accuracy. If you're heavier, look for a scale that remains accurate above your current weight.
Do you want to keep your scale on display? If you want to keep your scale out in your bathroom, look for one with the right dimensions and for one that matches your style of decor. If you'd prefer to pack it away between uses, look for a scale that's small enough to fit in your cabinets.
How We Chose the Best Bathroom Scale
Years of using a bathroom scale have given us some idea of what to look for. But, for this article, we prioritized the accuracy of the measurements provided, the technology included (mainly the type of sensors and whether the scale had StepOn tech) as well as style and functionality. In addition, we included a variety of scale types, from analog to digital and smart scales, to hopefully help you find the right scale for you from the options below.
Without further ado, let's take a look at the best bathroom scales available right now.
1. INEVIFIT Premium Bathroom Scale
BEST OVERALL
The INEVIFIT Premium Bathroom Scale is a scale for a modern bathroom. It boasts a beautiful, stylish look and comes in three colors, namely black, white and silver. It sports a large LCD screen, so reading your weight measurement is easy and comfortable. The scale is also highly accurate, offering precise readings up to 0.1 kilograms. It includes an auto-calibration function, while the ultra-slim design makes it easy to store under or in gaps between bathroom furniture. Additionally, for those wanting an extra dose of tech in their scale, there is a model that includes built-in Bluetooth and an accompanying smartphone app.
2. NUTRI FIT High Precision Body Weight Bathroom Scale
BEST BUDGET
For a digital scale that's simple to use, accurate and offers extreme value, look no further than the NUTRI FIT High Precision Digital Body Weight Bathroom Scale. The extra-wide platform provides stability as you take your weight measurements, which are accurate to 0.1lb. The LCD display is 3.25 inches tall and backlit for easy reading, and the six-millimeter glass used on the surface of the scale boasts rounded corners for your safety. Plus, the scale automatically turns on and off, allowing it to run for several months or even years on a single set of AAA batteries.
3. Etekcity Digital Body Weight Bathroom Scale
MOST POPULAR
For a reliable answer to weighing yourself, look no further than the Etekcity Digital Body Weight Bathroom Scale. This impressive device includes everything you could want in a standard digital scale. From the step-on technology which makes measuring your weight simple to the backlit LCD that makes reading it easy, this scale is built for a user-friendly experience. That includes arriving at your door ready to go as soon as you take it out of the box. Other handy features include the ability to read in kilograms or pounds, auto on/off and a low battery indicator.
4. AmazonBasics Body Weight Scale
BEST BASIC
For a scale that won't break the bank and will still provide an accurate reading every time, we like the Amazon Basics Body Weight Scale. The digital scale has a unique design with rounded corners and a clean face for a modern and simple aesthetic. Made with plastic and tempered glass, the battery-powered scale has an auto-on/off function to help save power. Using smart sensors, customers will be able to see their weight and BMI readout in seconds. A small button on the back of the unit makes it possible to switch between pound and kg readouts.
5. Pohl Schmitt Weight Scales
QUALITY PICK
As smart scales become the norm, we are starting to see entry-level products that rival bigger brands. The Pohl Schmitt Weight Scales are certainly one such product. This powerful scale can take 13 different measurements with ease and allows you to track your progress on a smartphone app. One of the things we love most about this scale is that you don't have to use a switch or tap the scale with your foot to turn it on. Simply step on it and get instant readings thanks to the four high-precision sensors.
6. iDOO High Precision Digital Bathroom Weight Scale
BEST DESIGN
For a digital scale that customers won't want to hide when guests come over, there's the iDOO High Precision Digital Bathroom Weight Scale. The digital scale features a modern marble finish that adds a touch of class to any bathroom and may blend in with floors. The oversized platform measures 12.8 by 11.6 inches and is made with 8mm thick tempered glass. Four high-precision sensors provide accurate readings up to 0.2 pounds. The easy-to-use scale has auto-calibration and an auto on/off function to help save battery life. The large LCD screen is easy to read even in the dark thanks to the blue backlight.
7. Vitafit Digital Body Weight Bathroom Scale
LONGEST LIFE
The Vitafit Digital Body Weight Bathroom Scale may look just like any other digital scale, but it's a powerfully accurate tool you'll want to have in your bathroom. Where most scales lose accuracy above 350 pounds, this scale continues to provide readings within 0.1 pounds. In addition, the scale won't lose its accuracy over time, unlike many competitors. And, as an added bonus, the large LCD screen is lit in blue to make seeing your weight reading as easy as possible. Three AAA batteries are included, so you can start taking your measurements as soon as this scale arrives.
8. RENPHO Smart Digital Bathroom Weight Scale
BEST FOR ATHLETES
The RENPHO Smart Digital Bathroom Wireless Weight Scale is ideal for exercise enthusiasts looking to stay on top of their physical health and wellbeing. This wide-acting scale uses four high-sensitivity electrodes to give you an impressive array of body stats, including BMI, body fat, weight and body water. This is great for goal setting or maintaining levels. These features are only further aided by the accompanying smartphone app which automatically syncs your scale with other popular apps, including Fitbit App, Samsung Health and Google Fit. In addition, the scale is available in either black or white and sports non-slip feet which provide a stable base during use.
9. Ozeri Rev Bathroom Scale
BEST RETRO
The Ozeri Rev Bathroom Scale is delightfully retro in style. It boasts a top mechanical dial with chrome trim that is 5.5 inches in diameter, allowing it to be the showpiece of the scale. Still, Ozeri has not neglected the modern era by also including a digital screen. Simply step on the scale to see the digital reading light up and the mechanical dial move up at the same time. Four high-precision sensors provide accurate readings, while the tempered glass keeps you safe. We're not sure you'll ever feel cool while standing on a scale, but if there's a chance to feel that way, this scale is probably your best bet.
10. AccuCheck Digital Body Weight Scale from Greater Goods
MOST ACCURATE
For customers who want the most accurate reading possible, we like the AccuCheck Digital Body Weight Scale from Greater Goods. Unlike other scales that provide readouts down to 0.2 pounds, the AccuCheck gives users their weight down to 0.1 pounds for an improved level of accuracy. The AccuCheck verifies its initial reading after the user steps off the scale to ensure a precise weight. Available in four colors, the AccuCheck has a tempered glass top and a weight limit of 400 pounds.
11. EatSmart Precision High Capacity Digital Bathroom Scale
BEST WEIGHT RANGE
Everyone should be able to accurately and comfortably weigh themselves at home, which is why we like the EatSmart Precision 550 Pound Extra-High Capacity Digital Bathroom Scale. While most personal use scales have a max weight of around 400 pounds, the EatSmart can be used by customers who weigh up to 550 pounds. The scale is also designed to be comfortable for anyone to use and has an oversized platform of 15 by 13 inches. Made with fingerprint-resistant stainless steel and tempered glass, the EatSmart features four highly sensitive sensors that provide accurate readings down to 0.2-pound increments. The scale is powered by three AAA batteries and calibration is easy and quick.
12. Wellue Scales for Body Weight and Fat
BEST SENSORS
The Wellue Scales for Body Weight and Fat have four distinct advantages over other bathroom smart scales. First, it boasts a full-surface sensor, which means you don't have to step directly on the four corners for accurate measurements. Second, the large display shows eight different measurements rather than relying on a smartphone to show the readings. Third, this scale can take fifteen different measurements, including heart rate. And, finally, the scale can produce trends for all measurements. Together, these advantages make the Wellue an easy choice for someone who wants a scale that can do it all.
13. Escali ECO200 Bathroom Scale
MOST UNIQUE
If you're tired of bathroom scales that are always white or black and glass or metallic, check out the Escali ECO200 Bathroom Scale. This unique piece has a bamboo exterior, which may make it more attractive for users with adventurous interior designs in their bathrooms. In addition, the scale is accurate to 0.2 pounds, and it can hold users up to 440 pounds in weight. The digital display is black and backlit in blue for easy reading. Plus, the scale comes with a 100% satisfaction guarantee.
15. Tanita HD-351 Digital Weight Scale
BEST MEDICAL GRADE
The Tanita HD-351 Digital Weight Scale is one of the most powerful bathroom scales on our list. This is a medical-grade weight scale, which means it's designed and constructed for heavy-duty use. The scale itself has a 0.2-pound accuracy and can accommodate up to 440 pounds. The easy-to-read digital display shows both the current weight and the previous weight for up to five users. As an added bonus, this scale has a low profile and thin platform, so you'll hardly notice it hanging out on your bathroom floor.
16. FitTrack Dara Smart BMI Digital Scale
MOST BODY MEASUREMENTS
Knowing your weight is only one part of your health snapshot. With the FitTrack Dara Smart BMI Digital Scale, customers can get a full picture of their current status and track changes all with the help of the scale's companion app. The FitTrack and its app make it possible to take 17 different body measurements, including body mass index, muscle mass and hydration. The app stores the user's information, making it possible to track their progress and see what areas need improvement. The Bluetooth scale, which can be paired with both iOS and Android phones, uses two different frequencies to obtain precise measurements. The scale also includes Athlete and Infant modes to help customize each user's experience and ensure accurate information.
17. Withings Body+ Smart Body Digital Scale
BEST PLUS/MINUS SCALE
For a big dose of modern tech in your home scale choice, consider the Withings Body+ Smart Body Digital Scale. This futuristic-looking device comes with an accompanying Health Mate app and also works with existing apps, like Apple Health, Fitbit, Google Fit and MyFitnessPal, for an all-encompassing experience. It's capable of monitoring your weight trends and your BMI as well as providing full-body analysis made up of your fat, bones, muscle and water weight. Connectivity-wise, the device can sync wirelessly using either Bluetooth or your WiFi connection and even works with Amazon Alexa, too. The ability to store up to eight different users is great for larger households, while the weather and temperature visuals on the display are a nice touch for day-to-day life.
18. QardioBase2 WiFi Smart Scale and Body Analyzer
BEST SPLURGE
The QardioBase2 Smart Scale is one of the most award-winning scales on the market. It was created when the founders of the company decided to design a scale that combined innovative technology, high-end design and exceptional user experience. The scale itself measures full body composition, including body fat, water, muscle and bone, using next-generation sensors for incredible accuracy and quick measurements. Keep track of your progress on the fitness app for smartphones, and get a green smiley face each time you make an improvement.
There ya have it! A scale for everyone here!