Razer Mamba Wireless Mouse Review
5 min read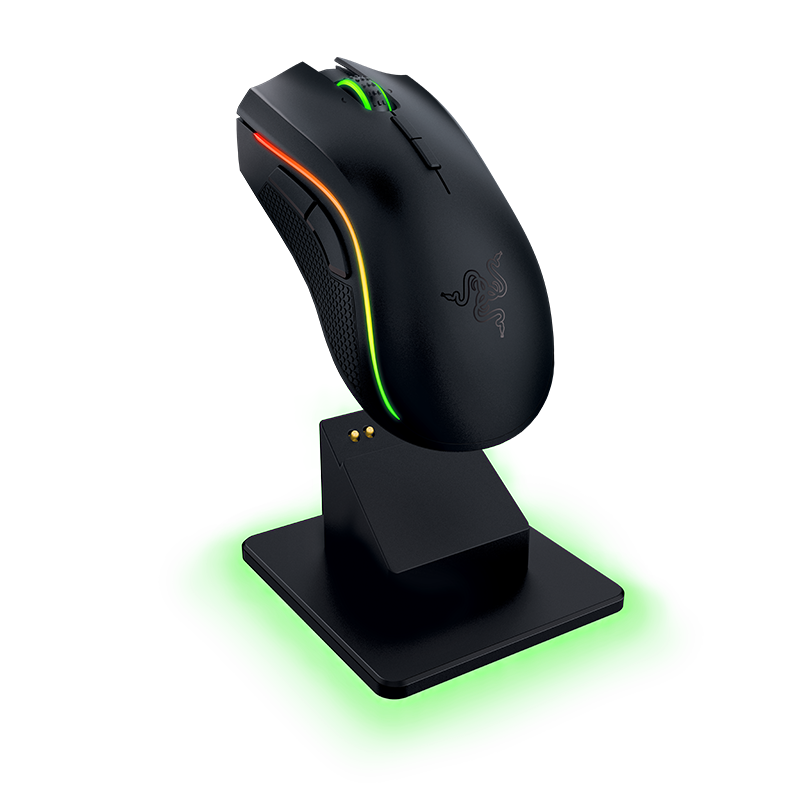 I've only owned one other Razer mouse in my 25-ish years as a PC gamer: the original DeathAdder. And it was great! It lasted me several years and eventually gave up. From there, I ping-ponged around to different mice, seeing what was out there…and then this awful Logitech thing happened.
So I returned that mouse and bought a Razer Mamba. And it feels like I came home.
The Razer Mamba normally retails for about $150, but you can find deals if you shop around. It features dual wired/wireless operation, with nigh-identical features and performance. The only feature you lose in wireless mode is that, if you run at 1000hz polling, you lose the advanced lightning configuration. Otherwise the two modes provide comparable performance. The laser sensor can track at up to 16,000 DPI…which is hilariously fast. Razer recommends a setting around 1800. But if you want to nudge the mouse and have the cursor go flying into your neighbors house, you can do that.
It's fun to try out at least. And it shows the sensor is quite capable.
Both main buttons feature satisfying clicky mechanical switches…and they're adjustable! Using an included screwdriver, you can set the stiffness of the clicks to your liking. By default they're set to a good fast setting, but this feature is great. I've never seen a mouse where you can adjust the feel of the buttons before.
The left side of the mouse has two easy-to-reach side buttons, also with solid-feeling switches. It's not ambidextrous. The scroll wheel is easy to click, and features a nice rubber texture. It also tilts side to side for two additional configurable inputs. Finally, two small buttons sit below the scroll wheel for DPI adjustments. That's it for buttons.
If you're into the idea of a mouse with a ton of buttons, I'd point you to Razer's Naga, or something like that.
As far as the shape goes…it's a whole lot like the DeathAdder, which is a great thing. The shape builds on the legacy of classic mice like the Intellimouse Explorer and the MX510, but with nicer materials and gentle curves. The sides are rubber- textured, and unlike some other mice, the rubber is of a high quality and has little pits in it to avoid your hands getting sweaty and depositing lots of residue.
I use a palm grip, and the mouse fits nicely in my hand. I imagine it would work well for any grip type. This is a time-tested shape, and it's well-executed.
I'm not a professional gamer. I'm not a hyper-detailed mouse guy. Plenty of those folks exist, and I enjoy their reviews.
I'm just a regular guy who likes to play games. I can't tell you about whether the sensor is good or bad compared to other sensors. I've seen complaints about the sensor used in this model, but I've had no personal issues with it. Your mileage might vary if you're the sort to get picky about the sensor used in your mouse. Laser sensors like the one in the Mamba are not always the most popular in hardcore mouse circles, but I've found it to be more than up to the task.
Whether I'm doing desktop work, or playing games like Fallout 4 and Diablo III, the Mamba has been a joy to use. I haven't had any tracking issues. Sometimes the mouse pauses for a moment when the Razer Synapse software syncs info to it, but I mitigated that problem by switching to a USB 3 port. This might be an issue with the way the USB controllers work in my computer, and not with the mouse itself.
Let's talk about Synapse. You'll be prompted to install the software when you plug in the mouse. The mouse will work without the software installed, but you won't get any of the custom configuration options, nor will you get the latest drivers. The software installs quickly and handles updates for you automatically in the background, which is a great touch. It's lightweight and doesn't bog down my PC.
In Synapse, you can customize what every button does. You can customize the sensitivity of the mouse, and set different personal settings for DPI mode switching.
And you can customize the lighting.
The lighting on this mouse is really fun and I like it. Both the mouse and its charging cradle/base light up, and you can select from a variety of preset modes or build your own effects. The lighting is bright, transitions smoothly between colors, and is easier to customize than on other RGB products I've used. With one click, you can sync your lighting choices to any other Razer Chroma products you've got hooked up to the system. You can even choose what color the lights are while the mouse is charging.
Razer says the mouse will last around 20 hours of use on average on a single charge, and I've found that to be about right in my tests.
Let's talk about the charging dock. The dock is the secret brain of the mouse. It can charge the mouse from empty in about five hours. It has RGB lights in the bottom of it, and they look great. I can't understate how weirdly cool this is.
You need the dock hooked up to your PC in order to use the mouse wirelessly, and this might be a dealbreaker for some. All of the wireless receiver bits are in the dock. So, this is not at all a great mouse to lug around with you if you want to use it wirelessly with a laptop.
But that's honestly the only negative I can lob at this mouse.
The Mamba updates a classic shape with a great sensor, fun lighting, and excellent 1000hz wireless performance that feels identical to wired, at least to me. It doubles as a wired mouse for those that demand that type of connection. I was skeptical about the price, but it delivers, especially if you like this classic shape/design. If you want more buttons or a particular brand of optical sensor, you'll have to look elsewhere. But if you want a super comfy fast wireless gaming mouse that's easy to set up and customize, then I can't recommend it enough.
Here's Razer's product page for the mouse.