Motospeed CK94 NKRO Slim Wired Gaming Mechanical Keyboard REVIEW
4 min read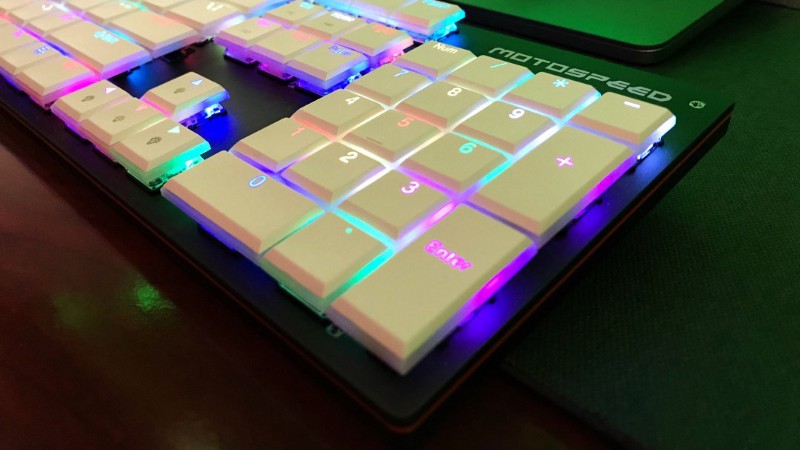 I've had a fascination with mechanical keyboards since I got my first one a few years ago. They are fun to use for just about any task but are specifically designed for gamers who tend to need a keyboard that is just a bit more sturdy than the typical membrane keyboard. I am not a 'gamer', but I really enjoy the feel of a mechanical keyboard for typing. So, when I was given the opportunity to try out the Motospeed CK94 Slim Mechanical Keyboard, I couldn't pass it up. The simple fact that it's a 'slim' keyboard with mechanical keys was intriguing enough for me to check it out.
Details
The Motospeed keyboard has a full 104 keys including a number pad. It supports 14 different types of RGB backlight styles. It is a wired keyboard using Micro USB to USB as its connection method with USB 2.0 speeds. The keys are anti-ghosting and have a response speed of 1ms. The CK94 features the Kailh Short Switch, which was designed to mimic Cherry switches. The keyboard is made from ABS and metal and has a lifespan of 80 million keystrokes. The keyboard is actually quite portable (it fit into my backpack) weighing only 2.2 lbs. The keyboard ships with a user manual and one Micro USB cable for connection to your computer.
SPECS (from box)
Multimedia function key combination
Free of EEPROM memory, adopt Flash memory chip
Full keyboard without conflict, fast response
Full mechanical switch, professional gaming players standard equipment
Quick WIN, avoid fighting game by accident and cut out the desktop
User Experience
The keyboard arrived packaged inside a black box with the Motospeed logo embossed in metallic orange on the cover. The words "Live for games" was also printed on the front. Aside from that, there was a simple yellow product information sticker on the back. This contained details about the product (listed above) in both English and Chinese languages. There is also quite a bit of company information including a phone number and website.
When I opened the box, I found the keyboard wrapped in a white non-static wrapping with styrofoam pieces gripped to the edges so that the keyboard wouldn't move around in the box. I thought this was a good way for the keyboard to be shipped to consumers. In addition to the user manual and USB cable, there was also a key puller packaged in the box with the keyboard. This is always handy for mechanical keyboards to be shipped with so I was happy to see it included.
As I mentioned above, my primary use of the keyboard was as an attached device to my laptop — a 2016 MacBook Pro. I run my keyboard off of a docking system from Landing Zone. Therefore, the keyboard was plugged into the dock through one of its USB 3.0 ports and then connected to my laptop through the dock. The keyboard was recognized right away by the MBP and I was taken through the usual keyboard identification steps that my Mac normally does when a new keyboard is connected.
When it first realized that it was connected to an appropriate power source, the CK94 lit up with an impressive RGB light show sequence. I do love the variations of light sequences that the CK94 presents. You can cycle through those variations by press/hold Fn and tapping Ins for each different color option. You also have the option of adjusting the brightness or color direction by press/hold Fn and then tapping the arrow keys. You also have the option to use the preset custom color combinations by pressing Fn and one of the number keys (1–5) and then you can program 6–0. Speeds are controlled by Fn and +/- keys.
I've been very impressed by how easy it is to use the different functions of the keyboard without having to have special software for it. Sometimes when you use a Mac, you don't have access to all the different functions of a keyboard, but since the majority of the features are built into the keyboard, I am able to take advantage of them.
As far as typing goes, I found the response time to be very good. I did find that I had to press the keys a bit harder (maybe 10% harder) than my native MBP keyboard with butterfly keys. The CK94 has a great feel to it and I was surprised at how mechanical it does feel considering it's a slim style keyboard and this is my first foray into a slim mechanical keyboard.
One of the things I really like to do when I test keyboards is to run a simple typing test using the test keyboard and then my MacBook Pro as the control keyboard. Using a simple test on typingtest.com, I found that I had an adjusted typing speed of 56 WPM using the Motospeed CK94 and I hit 59 WPM using the MBP keyboard. I wasn't surprised by this result, but I did expect to be a little faster with the Motospeed than I was.
Conclusions
The Motospeed CK94 is a very nice mechanical keyboard and especially nice for minimalist set-ups. I love its slim profile and was very impressed with its LED light show. My only real issue with it was that it was a little too clicky for my taste. I really like the softer feel of some mechanical keyboards like the SteelSeries Apex M800. It's a very large keyboard though and not right for this set-up. If the CK94 didn't have the number pad, I think it would perfect for me. It's a great keyboard though and very affordable coming in under $100.