Jimmy over at AntLion.com who makes the ModMic's was kind enough to send a test unit over to AltTabMe.com knowing that we really value our audio quality for podcasting and generally not wrecking one another's ears over Discord.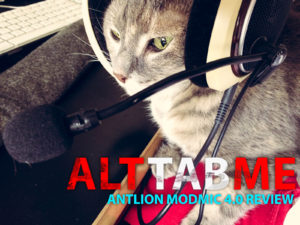 I was sent a 3.0 version back when and I just couldn't justify the price and quality, there were too many features missing, lacking, or not compatible with my rig. I use a Samson C01U condensor mic on a regular basis so it had some stiff competition. That has not changed so let's see how the Modmic 4.0 stands up to the competition.
(obviously these are two different types of mics but considering that no one makes a book mic attachment like this for comparison and the price range being similar it will be what we use as a comparison, especially because I personally would like to see a mic like this replace my current c stand and condenser mic that take up a lot of space.)
First let's talk specs for the 4.0:
Here are some shots from when I unboxed it:
A nice zipper case to store it in.
A Mute Switch, which for some reason people want. This really is of no consequence to me. I often find anything that hinders the wire, degrades quality so I usually opt for one without. But here it is for those who this is a "must have".

The new microphone which has increased dramatically in size. Size doesn't always matter but I am all for it if it helps to get the quality out there. As well this new design seems to have increased the reduction of background noise. Which for all of us with Fans on in the summer understand the importance of.

So first impressions:
Good build quality.
Comes with extra magnetic stickers for multiple devices to attach it to.
Great packaging, much more consumer grade now.
Super long wire which is good for someone like me who wants his computer to not be at his feet or on his desk.
Feels sturdy and when you bend the mic to be in the appropriate place, it stays put and doesn't feel like you will break important pieces as I experienced with the 3.0
Specs smecks, packing plackaging… How does it sound? Take a listen for yourself before I tell you my thoughts:
To me this mic has excellent noise cancellation, it is able to pick up my voice semi crystal clear and still remove the key and mouse clicks that my Samson always picks up. The Samson obviously has a larger Dynamic range but for those who are broadcasting or streaming, that may not always be a good thing. The background noises and cars going by in my NYC apartment are not always a welcome addition to a stream. If you have time to edit out the background and make more of a studio situation the Samson C01U will outshine this mic 10 ways to sunday, but then again who plays video games in a soundstage? You definitively cannot edit your audio as you broadcast. In terms of voice quality I have to say I like it. Does it replace my Samson in terms of clarity, no, but it does replace it in terms of an every day microphone. If I want to do specific type broadcasting I would stick to my Samson for the clarity and the post option available, however if I am podcasting and turning my head a lot as I get excited on a topic and don't want to have the volume dip and dive, this is the perfect candidate to use. It has a consistent sound and really helps remove the sounds all around me so you can just listen to the smooth sexy tones of my voice while I read Fifty Shades of Grey.
The Voice Comm Test:
Me, "Ok everyone I am now talking with my Samson Mic"
Everyone, "OK"
Me, "Now I am on the ModMic 4.0, how does it sound?"
Everyone, "Sounds the same to me"
Price:
This mic clocks in at 49.95$ US. Currently a Samson C01U is going new for 68$ on B&H Photo and around 40-50 dollars on Ebay. So it is really up to you as to what you are going to use it for. It is a high quality microphone with flexibility to stick onto any high end set of headphones, something you cannot do with a studio mic. But the price jump has definitely put this in the higher end spectrum of microphones available.
Conclusion:
Compared to the 3.0 I tried a few months back, I was relieved to be able to give a good review. It is really night and day when it comes to build quality and overall sound quality. Regardless of price, I find the quality, customer service(1 year warranty), and sound quality of this microphone to be right up there with some of the top end microphones, my Samson included(give or take a bit of dynamic range and such for size and convenience) making it a worthwhile purchase.
It is a one of a kind microphone with flexibility to fit all your needs. If you don't want to sacrifice your headphone sound quality for one with an attached mic, this is one of the ONLY options out there that allows you to attach it on the go and remove it easily when not using it, which is a huge benefit. For what it is, the sound it produces, the lightweight construction, and overall "cool factor" I would recommend it as a worthwhile investment, especially if you are streaming live a lot without the ability to edit it in post or get yelled at for piercing ear drums on a regular basis via voice chat.
I could see myself using this more than my Samson for my everyday usage and will update as I wear it in more.